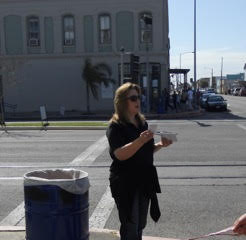 Heart of the arts evangelistic association
A ministry of Matranga Ministries International, Inc.
Proclaiming The Truth Through Music & The Word
As a young minister, George didn't just want to attend church but be the part of the church that seeks and saves the lost. He wanted to be on the front lines – a Commando for Jesus. That's just what he did. He formed a street team and went to the streets of Houston and beyond. Not only did they go to the highways and byways but to the beaches as well.
The ministry hosted Commando street crusades and outreaches. Soon they were invited by other churches to teach and demonstrate street evangelism. Usually, Friday evening was dedicated to teach and instruct. Then by Saturday evening they put to practice what they learned by going to the areas the host church wanted to reach.
The ministry felt called to lay roots down in North Houston. George had the vision of a Commando Outreach Center. They rented an abandoned night club and sent their street team to invite people from the neighborhood to a free concert and ministry. Soon a mission church was birthed, The Shepherd's Door Christian Outreach Center.
Evangelism has always been in the DNA of the ministry, whether one-on-one witnessing, street concerts, or street preaching. George served as a guest speaker for numerous evangelism conferences and for years served as an area leader for the Mardi Gras Outreach in Galveston, Texas.